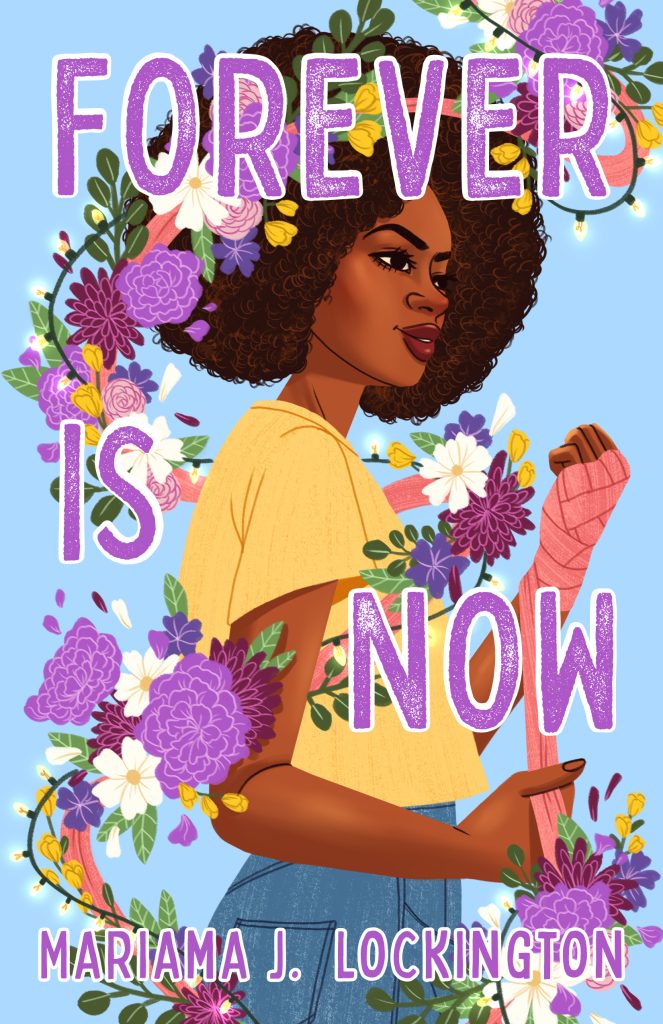 In case you missed it, the cover to my third book was revealed at the end of August. I'm still pinching myself at how stunning it is! Here are three things I want you to know about Forever is Now and this beautiful cover:
1. I am so honored to have Alex Cabal's gorgeous artwork on this cover, and Mallory's Grigg's savvy book design. As with my other books, I have had a great experience working collaboratively with my publisher and artists to make sure the cover stands out. I was able to send along comp covers that I liked, as well as send along key images/themes from the book as well as a character sheet of Sadie's style, personality, etc. Alex took all of these things, and sent along artwork drafts and  we all worked to come to this final image, then Mallory stepped into create the final layout, fronts, and overall design. I love the strength and soft beauty captured in this cover, and I am obsessed with the wild flower element which nods to a garden that holds importance in the story. And the hand wrap? Chef's kiss! Let's just say, boxing is a critical coping mechanism for both myself and my main character, Sadie. I'm so happy to have Sadie brought to life here in all her powerful glory.
2. I wrote this book in 2020 when I was struggling with my own mental health. I was having panic attacks on the daily, and deeply triggered by the never ending violence being enacted on Black bodies in this country. This novel is my ode to Black girls and young queer people who live with chronic anxiety, but who want to make a difference in this world. I wanted to write a book in which my characters are full of beautiful contradictions — where it's possible to be strong and delicate all at the same time. I talk about this more in my author's note in the book, but writing Sadie's story saved me during a really hard time. My hope is that some small part of her story will resonate with folks, and give those who need it permission be exactly as they are and know that it is more than enough.
3. I am a poet at heart. I love writing prose and other forms, but poetry will forever be the form I come back to to make sense of the world. Sadie's story is told in verse because she too is a poet, a storyteller, and writing helps her organize and find her voice when she is feeling alone, small, and hidden. As a a queer Black woman, who lives with chronic anxiety and a myriad of phobias, writing this story in poems was such a cathartic process. It helped me refine and get closer to the core voices and needs of each of my characters. I believe that poetry is for everyone, that it has the power to connect us beyond the bounds of social constructs, and that it can change a heart, a mind, one word at a time. And so, I'll leave you with this short excerpt from the novel:
—
Chapter 1: Cicadas
The sunlight today is thick
with the percussion of wings
and endings.
It's late May, school is out
and I am wrapped in Aria's arms.
We are at Lake Merritt in Oakland
and even though she is holding me
she is also speaking heartache:
Sadie, are you listening?
We need to take some space.
I am listening, but I am also
remembering my gram—my mom's mom
and the noise of her backyard in Baltimore.
How when I was seven, and unafraid of most things
we visited for the first time
in the muggy, humid summer
and I ran around collecting
the empty carcasses of cicadas
off of all the trees.
How come they do that?
I asked Gram.
It's just the cycle of things, baby,
she answered, standing over
her tomato plants with the hose.
They live underground for years and years,
then one night they emerge from the soil
and shed the skin of their former selves.
They only live a day or so with wings,
then they die.
But that noise they make, it's music.
I collected their shells in a jar that trip,
brought them back to California with me.
At night, in my room when I can't sleep
I look at them in the moonlight
on my bookshelf.
I imagine their hissing and the way
Gram's yard was an orchestra of sound.
All this time, I thought I was holding on to
that memory of being a kid.
My body free of most terrors, full of dreams
and questions.
The brown dust of the cicadas on my bookshelf
nostalgia
bottled away in my heart.
But this January, I turned sixteen
and when I blew out my candles
everything shifted, again.
Worry a growing thing, a living shadow
braided into my DNA—new anxieties
slamming my mind shut like a door.
And now, hearing Aria say the words:
I think we need space.
My chest hammers, my palms sweat
my head screams:
You're too much to handle,
too much mess.
Sadie, say something.
Can you hear me?
Aria says again.
I hear her.
But I am also thinking of the jar,
of the audacity of those empty brown shells,
of Gram's words: They only live a day or so
with wings.
Why come out of the ground at all?
If when you emerge finally
wings sharp and iridescent
life as you know it
can be over in a flash?
Copyright @ Mariama J Lockington
____
Forever is Now will be out May 23, 2023. Preorder now!
Preorder via Joseph Beth Booksellers