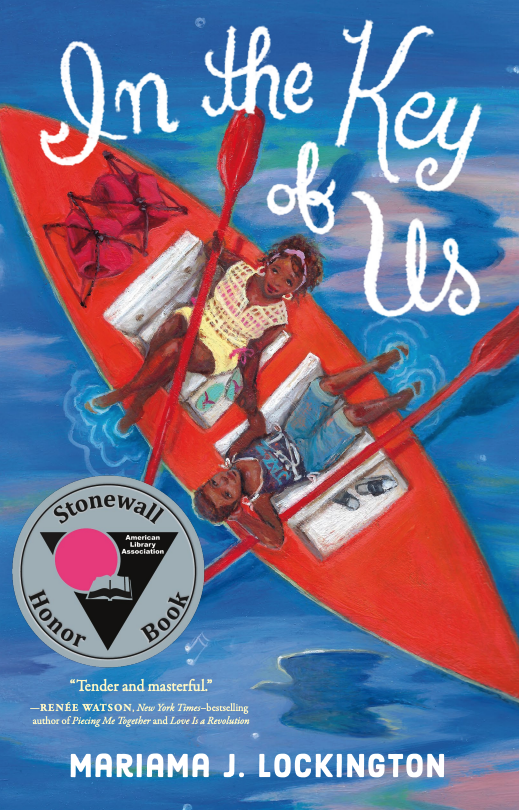 Thirteen-year-old Andi feels stranded after the loss of her mother, the artist, who swept color onto Andi's blank canvas. When she is accepted to a music camp, Andi finds herself struggling to play her trumpet like she used to before her whole world changed. Meanwhile, Zora, a returning camper, is exhausted trying to please her parents, who are determined to make her a flute prodigy even though she secretly has a dancer's heart.
At Harmony Music Camp, Zora and Andi are the only two Black girls in a sea of mostly white faces. In kayaks and creaky cabins, the two begin to connect, unraveling their loss, insecurities, and hope for the future.
And as they struggle to figure out who they really are, they may just come to realize who they really need: each other. From the author of the critically-acclaimed novel, For Black Girls Like Me, comes a lyrical story about the rush of first love and the power of one life-changing summer.
Praise for In the Key of Us…
Stonewall Book Awards―Mike Morgan & Larry Romans Children's & Young Adult Literature Honor Book
A Junior Library Guild Gold Standard Selection
School Library Journal Best Book of 2022
New York Public Library Best Book of 2022
Chicago Public Library Best Book of 2022
Shelf Awareness Best Book of 2022
Center for the Study of Multicultural Children's Literature Best Book of 2022
"['In the Key of Us'] is also a work of art, full of delights: appealing characters, camp traditions, light romance, middle school friendship, poetry, music, the pleasures of creative work." ― The New York Times
"Navigating sensitive topics like body image, mental health, racism, grief, and healthy relationships with a gentle hand, this moving coming-of-age story is perfect for tweens and young teens." —School Library Journal, starred review
"Alternating the two perspectives with verse interstitials, Lockington (For Black Girls Like Me) weaves an exploration of mental health, self-harm, and microaggressions with a love letter to music, the importance of representation, and the work of sticking up for the person one dreams of becoming." —Publishers Weekly, starred review
"Told in Andi's and Zora's alternating perspectives, the well-paced coming-of-age narrative is sprinkled with contemporary references that bolster its authenticity as it sensitively explores topics such as racism and self-harm and offers a touching portrayal of young queer love…Vivid writing and relatable characters make this a worthwhile read." —Kirkus Reviews, starred review
"Lockington elevates what is already an insightful middle-grade romance to a moving portrayal of two girls working toward themselves and each other, carrying the weight of other people's expectations and the pain of past traumas… An authentic look at how identity and relationships transform under shifting middle grade dynamics, this is a must-have for fans of Paula Chase and Frances O'Roark Dowell." —The Bulletin of the Center for Children's Books, starred review
"Lockington skillfully and delicately incorporates into her middle-grade romance anxiety, self-harm, coming out as LGBTQ+, microaggressions and the reality of how difficult life can be for children of color. In the Key of Us ultimately sends a message of hope and freedom that underlines the importance of children and teens letting the world see them for who they really are." —Shelf Awareness, starred review
"Mariama writes so beautifully about emerging queerness and Black girlhood that it's hard to walk away from her books without your spirit being lifted." — Leah Johnson, bestselling author of You Should See Me in a Crown
"Lockington's novel takes readers on a breathtaking, lyrical journey of the complexities of Black girlhood in a story about music, family, and recovery from loss. She weaves a tale that is both brutally honest and endearing, exposing the sincere flaws of her main characters in such a way that makes readers weep for each misstep and rejoice with each measure of success." — Booklist
"The voices of Andi and Zora are distinct and consistent, providing a comprehensive view of this coming-of-age romance." — Horn Book
"In the Key of Us is a touching and heartfelt story that rhythmically follows the ache and joy of first love and finding yourself. Lockington manages to hit all the right notes, breaking your heart and filling you with joy as she looks at grief, growing up, and the healing power of friendship." —Lisa Moore Ramée, author of A Good Kind of Trouble and Something to Say
"Warm and poetic, this gentle and emotional story of first love between two complicated and dynamic young girls completely captured my heart." —Jasmine Warga, Newbery Honor Award-winning author of Other Words For Home and The Shape of Thunder
"In the Key of Us gives voice to the rich inner lives of Black kids and celebrates their loves while holding space for their losses in equal measure. It is a joyous celebration of music and art, loneliness and togetherness, and what it means to grow up and find peace in the world and within yourself. A charming, life-affirming, queer band camp novel I never knew I needed. I'm thrilled that the world has it now." —Ashley Woodfolk, acclaimed author of The Beauty That Remains and When You Were Everything
"IN THE KEY OF US is a symphony of a novel. Andi and Zora each struggle with family and friendships, expectations and loss, but during their summer filled with music, they form a bond that helps them on their path to self-discovery and healing. Mariama Lockington has written a story that is complex, lyrical, and true—a story that will make your heart sing." —Rajani LaRocca, award-winning author of Midsummer's Mayhem, Red, White and Whole, and Much Ado about Baseball
"Lockington's lyrical writing is tender and masterful. IN THE KEY OF US captures the many ways growing up is hard, exhilarating, unpredictable, and beautiful. Here, there is no pretense that life is easy but there is promise that there can be second chances, healing, and so much love." —Renée Watson, New York Times Bestselling Author