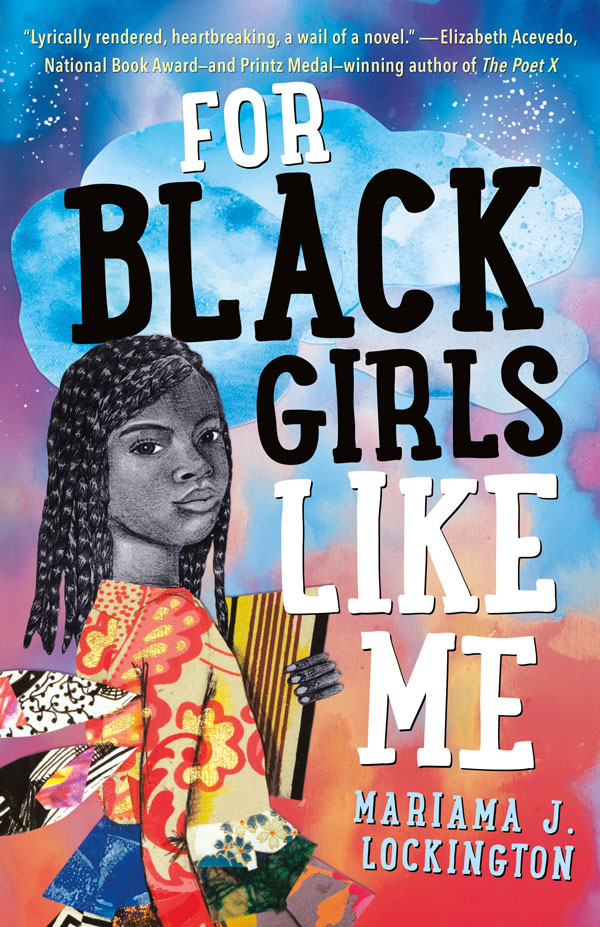 I am a girl but most days I feel like a question mark.
Makeda June Kirkland is eleven years old, adopted, and Black. Her parents and big sister are white, and even though she loves her family very much, Makeda often feels left out. When Makeda's family moves from Maryland to New Mexico, she leaves behind her best friend, Lena―the only other adopted black girl she knows―for a new life. In New Mexico, everything is different. At home, Makeda's sister is too cool to hang out with her anymore and at school, she can't seem to find one real friend.
Through it all, Makeda can't help but wonder: What would it feel like to grow up with a family that looks like me?
Through singing, dreaming, and writing secret messages back and forth with Lena, Makeda might just carve a small place for herself in the world.
Praise for For Black Girls Like Me…
"Lockington's middle grade debut is a gorgeous, tender depiction of a young Black girl seeking the space to thrive . . . the versatility of its style and structure means this novel could be used in many group discussions centering topics from transracial adoption to genre-blending literature. VERDICT An ­essential purchase for all collections." —School Library Journal, starred review
"An outstanding middle grade debut . . . With intimate authenticity, she explores how fierce but "colorblind" familial love can result in erasure and sensitively delineates the pain of facing casual racism, as well as the disconcerting experience of being the child of a mentally ill parent." —Publishers Weekly, starred review
"In this #OwnVoices middle-grade debut, Lockington captures the joy and angst of transracial adoption . . . an authentic and intimate portrayal . . . this is a necessary read for girls struggling with identity and purpose within their families, as well as a powerful coming-of-age story of Black womanhood." —Booklist, starred review
"Distinctive, lyrical prose with poems interspersed throughout. Keda's world is richly drawn and seamlessly presented in a strong, authentic voice. This magnificent middle grade debut from Mariama J. Lockington is an absolute gift of a book." —BookPage, starred review
"Lockington's focused imagery and impressively balanced rhythm between prose and poetry share the perspective of a black girl trying to find a place in her community and in her family." —Shelf Awareness, starred review
"The multimodal storytelling is visually accessible yet conceptually sophisticated, and Keda's narration, in a reflective, comma-free style, has a touch of adult perception to it that helps expand the audience range of the story. Readers will cheer Keda as she emerges with a stronger and more loving sense of herself." —Bulletin of the Center for Children's Books
"Achingly honest, and so well-observed, FOR BLACK GIRLS LIKE ME is like the most haunting blues song: lyrically rendered, heartbreaking, a wail of a novel that will offer young people and adults alike hope in the fact that we are not alone in our pain." National Book Award Winner of THE POET X, Elizabeth Acevedo
"Mariama Lockington's novel FOR BLACK GIRLS LIKE ME is a revelation and a gift, brimming with beauty, honesty, heartbreak, and—most of all—love. It is a story in which so many young people, especially transracial adoptees, will be able to catch glimpses of their own complicated realities. This book is one I dearly wish I'd had, growing up adopted—I am so grateful that it exists now. Mariama's is a voice we need, and this gorgeous debut novel is destined to be read, shared, and treasured by readers of all ages." —Nicole Chung, author of All You Can Ever Know
"For Black Girls Like Me is the book I needed as a young girl. My heart ached for Makeda in the difficult moments and swelled as she slowly learned to use her voice. This is a beautiful, necessary book." —Brandy Colbert, author of Finding Yvonne and Little & Lion
"Lockington's debut is a revelation. Her voice is a much-needed addition in a field that is far too sparse on #ownvoices stories, and this story in particular is one that only lived experience could bring to life. The language is delicious. Keda's story is searing and essential. I can't wait for everyone to read this." —Tracey Baptiste, New York Times bestselling author of The Jumbies series
"I don't think I've ever read a more moving rendering of the complex dynamics of growing up as a young, black transracially adopted woman today. Debut novelist Mariama Lockington, herself a young black transracial adoptee, nails the experience of being 'loved and lonely at the same time.' She somehow manages to do this while exploring family mental illness, sibling relationships, moving schools and geographies, and the messiness of pre-adolescence. This is a gorgeous new voice that we desperately need in this time of overly-simplistic stories of race, family, and childhood in popular culture." —Shannon Gibney, author of the Minnesota Book Award-winning YA novel, See No Color
*A Today Show Best Children's Book of 2019!
*The Guardian Best Book of 2019!
*A 2020 ALA Notable Middle-Grade Novel!
*A Booklist 2019 Editors' Choice!
*A School Library Journal Best Book of 2019!
*An ALSC Notable Book!
*A Junior Library Guild Selection!
*A Bank Street Best Book of the Year!
*A 2020 Charlotte Huck Recommended Book!
*A Chicago Public Library Best Book for Young Readers!
*A Cooperative Children's Book Center Choice!
*A Cooperative Children's Book Center Book of the Week!
*A Book Depository Best Book of 2019!
*A Denver Public Library Best & Brightest List Pick!
*A 2019 Nerdie Best Middle Grade Book!
*Five starred reviews!