Kacen Callender Moonflower Launch Event with Mariama J. Lockington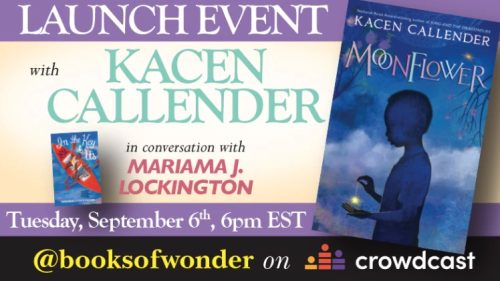 Date:
Tuesday, 6 September 2022
Meet Spirits in Moon's Wonderful Middle Grade!
Join us for the VIRTUAL LAUNCH of Moonflower by KACEN CALLENDER, in conversation with MARIAMA J. LOCKINGTON, the author of In the Key of Us!
Beloved National Book Award winning author KACEN CALLENDER is the star of this wonderful virtual launch, in celebration of their newest middle grade story, Moonflower! 
This magical novel invites readers into a child's struggles with mental health, and their journey to wholeness in a realm of curious spirits.
Moon's depression is overwhelming. Therapy doesn't help, and Moon is afraid that their mom hates them because they're sad. Moon's only escape is traveling to the spirit realms every night, where they hope they'll never return to the world of the living again.
The spirit realm is where they have their one and only friend, Wolf, and where they're excited to experience an infinite number of adventures. But when the realm is threatened, it's up to Moon to save the spirit world.
With the help of celestial beings and guard­ians, Moon battles monsters and shadows! Get riveted by the journey of Moonflower, as Moon discovers how a magical adventure of love and acceptance awaits them in the world of the living, too

We are so pleased to be hosting KACEN CALLENDER for this wonderful virtual launch with MARIAMA J. LOCKINGTON! Be sure to join us online, where you can stream their discussion from anywhere in the world!
Tuesday, September 6th at 6:00PM EST via Crowdcast!